Food intolerances can be any allergic reactions that occur right after eating certain foods. Some are intolerant to certain types of foods but some are intolerant to most of the foods they eat. The symptoms can range from tastes on the skin to bloating, constitution and more. Food intolerance has become common nowadays due to changing environments and food habits. The food we eat has become adulterated and we get fewer nutrients and more illnesses. But, Ayurveda shows you the way of eating the food and how and what should be eaten to reap its 100% benefits. IAFA Ayurveda is leading worldwide in the treatment of food intolerance and allergies that are caused due to food intolerances.
Hear it from our patient who resides in the USA and got food intolerance ayurvedic treatment from IAFA and has been living happily since then.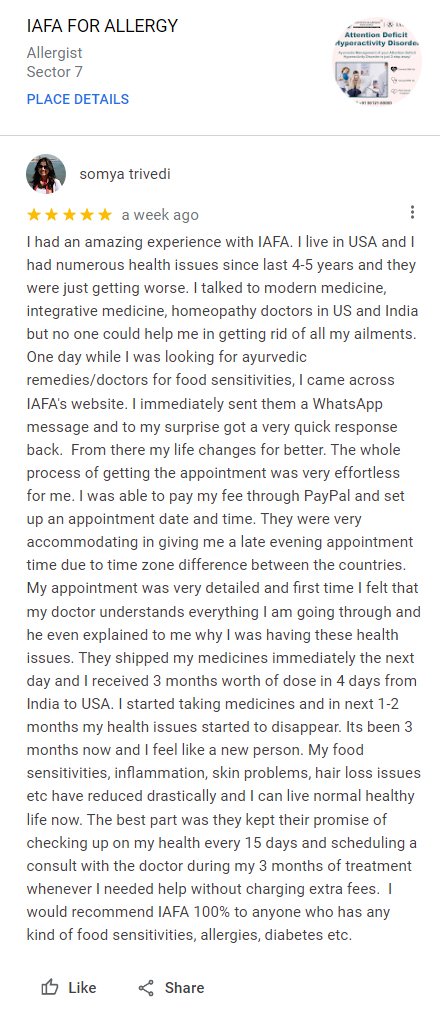 Soumya who resides in the USA has been suffering from various health issues including but not limited to:-
Bloating and abdominal distension 
Acne over face
Anxiety and stress
Hair fall and weight gain
Inflammation in the body
Past medical history of IBS
H. pylori positive 
The patient also had seborrheic dermatitis in the past. She used to have:-
Itchy, flaky and burning sensation over the scalp, face and forehead.
It used to aggravate before her menstrual cycle.
But the patient said that she had been relieved from seborrheic dermatitis and is no longer on medications.
What did the Patient Say about her Health? 
The patient said that in 2012 she got seborrheic dermatitis and later in 2013 she got panic attacks.
Her anxiety and stress levels were increased
Her cholesterol levels were high and it was hard for her to shed some weight
In 2021, she started getting inflammation and especially in her lower stomach area. 
What did her Diet Include? 
Her diet mainly consists of Indian food. Once she was suggested by a medical consultant that she has gluten intolerance and must stay away from:-
Grains like oats, wheat, corn and lentils like moong, masur, urad etc,
Dairy and eggs
Introduction
Food intolerance is called Aahar Asatmyata in Ayurveda. It occurs when you eat any viruddha aahar or the wrong combination of foods. When you eat incompatible foods then they are not properly digested and can be converted into Ama visha (toxins) which can act as antigens to your body resulting in allergic reactions. 
Body channel hyperactivity is called srotas Atipravruti where your body causes hypersensitivity reactions in response to certain allergens. Allergens can be dust, pollen, drugs and certain foods. 
Case Study
Name: Somya Trivedi
Age: 37 yrs
Gender: Female
UID: 7066
Address: Washington, USA
Date of registration: 25/4/2022
Final Diagnosis
After considering the signs and symptoms of the patient and all the dietary details she had given, Dr. Sahil Gupta diagnosed her condition as Food Intolerance due to which all the other conditions are outraging. Food intolerance is the primary and root cause of her illness. So, Dr Gupta advised her to undergo food intolerance ayurvedic treatment for 3 months and after 3 months there will be a maintenance dose to make her sure from other kinds of allergies or in general any health issues. 
……………………………………………….. यत्किञ्चित्दोषमुत्क्लेश्यनहरेत्तत्समासत: l
विरुद्धं ……………………………………………………….l 
The above shloka from Ayurveda explains food intolerance. 
It explains the concept of virudha. Virudha or incompatibility refers to the condition in which doshas get vitiated in the body and cannot be expelled out from the body. This may occur when someone eats a mismatching combination of food items, having food at the wrong place, improper time, inappropriate amounts etc.
Dr Gupta's treatment approach involves eliminating the root cause and giving 100% herbal medicines to get cured. 
Treatment
Internal Treatment:
It is a herbal medicine to treat all kinds of food-related ailments.
It has anti-inflammatory properties.
It is a good antispasmodic and anthelmintic medicine.
It improves the digestion capacity of your body.
It increases the digestive fire and aids in the proper digestion of food.
It aids in treating digestion-related issues like dysentery, diarrhoea, abdominal pain and bloating.
Dosage: Use 30 ml of Aahar Amrutam Ras along with an equal amount of water after a meal once a day.
It is good for treating digestion-related issues caused due to food intolerances.
It is effective for the alleviation of gastrointestinal disorders.
It aids in proper digestion along with Aahar Amrutam Ras.
Dosage: Take 2 tablets after a meal twice a day. 
These capsules are good for immunity, skin issues and also digestion issues.
Aids in treating flatulence, constipation, and abdominal distension.
Dosage: 1 Capsule twice a day after a meal with lukewarm water.
It is a unique ayurvedic parpati preparation.
Parpati is a type of preparation where the Gulika gets disintegrated in the Grahani, I.e., the duodenum region.
It has mineral elements which are highly potent in nature and greatly absorbed at the gut surface.
Dosage: 1 tablet twice a day 1 hour after a meal with lukewarm water.
Take 1 tablet twice a day 1 hour after meal with lukewarm water. 
Helpful in maintaining a healthy digestive system.
Maintains intestinal balance.
Infused with 12 vital herbs 
Indicated for a healthy scalp and healthy hair.
1-2 gm can be applied directly to the affected area thrice a day. 
Good for healthier skin
Keep away from dry skin and flaky skin.
This is the food intolerance treatment recommended by Dr Gupta.
Do's (Pathya) 
Lactose-free milk like plant-based milk, you can read our whole blogs on plant-based milk to pick the best for you. 
Eat light and easily digestible food
Frequent intake of lukewarm water
More fibre-containing fruits and vegetables aid in the proper digestion and increase the bulk thereby reducing constipation issues. 
Include greens in your diet once a day
Take old rice, buckwheat, ragi, whole corn, millets and oats.
Consume fresh fruits and juices of pomegranate, Bael and apple on a daily basis.
Barley, moong dal, urad dal, saffron, coriander, and yellow and green lentils are good to go. 
Don'ts (Apathya) 
Avoid High-fat foods: margarine and cream, as well as fried or greasy food, spicy and sour food.
Packaged food that contains food additives, dye and artificial sweeteners.
Yeast fermented food and fermented beverage items.
Nuts: Pistachio nut, cashew nut and peanut
Vegetables: Eggplant, ladyfinger and mushroom
Fruits: Avocado and banana
Lentils: Kidney beans, pinto beans and soybeans.
All leftovers 
Viruddha Bhojana should be avoided.
Food intolerance successful treatment also includes diet and yoga asanas to get it completely cured and keep your body away from other future illnesses.
Yoga Therapy
It is an old-age therapy which brings the body and soul in balance. Dr Gupta recommends the following asanas to be followed regularly:-
Asanas include:-
Bhujangasana
Mayurasana
Paschimottanasana
Matsyendrasana
Sarvangasana
Kapalbhati
AnulomVilom
Pranayama include:-
Herbal Remedies Done on Alternate Days
Dr. Gupta suggests herbs like fennel water, cumin water and curry leaves to include in your diet as they enhance the Agni, the digestive system and aid in proper digestion and also for patients suffering from multiple allergies. It helps in the elimination of toxins from your body.
Cumin Water: 
Add half a teaspoon of cumin to 200ml of water. Boil it on a low flame so that the herb remains intact without leaving its properties and can be beneficial to your body. Strain the extra cumin and drink left-out water which has the essence of cumin in it.
Fennel Water: 
Add half a teaspoon of fennel to 200ml of water. Use a low flame and let the water boil gradually so that the properties of the herb persist and it will not evaporate. Strain them out and serve after a few minutes. The flavour of fennel is admirable and preferable, so you can have it without any doubt. 
Food intolerance successful treatment is followed by the patient for about 3 months to get good results. After using the above-mentioned medicines for over a month, the IAFA team started following up and keeping a record of her health condition regularly. 
Follow-Up:
1st-month follow-up was successful as the patient started getting results. Most of her illnesses are showing positive results. 
She started feeling better.
Her skin rashes were almost reduced
Her food digestion capacity also enhanced
Digestion-related symptoms were almost treated.
Follow-Up:
2nd month follow up where the patient has now recovered 75% and is left with only mild symptoms, to make you sure, we will attach a link below to her review, and hear it from her words. 
Stress and anxiety issues are also getting to normal.
She's able to concentrate better on work now.
Her scalp issue and skin dryness were reduced.
She can now eat any kind of food without any guilt or worry of intolerance. 
Food intolerance cure involves maintenance dosage which is given after 3 months of primary treatment.
Maintenance Dosage: 
All the below-mentioned medicines were advised to be taken daily one time. This will be up to 3 months, where Dr. Gupta ensures the proper cure for her illness.
IAFA Swaras Chikitsa: Aahar Amrutham Ras: 30 ml of Ras once a day with an equal amount of water after a meal.
Aahar Amrutham Gulika: 2 tablets once a day after a meal with lukewarm water.
Triphala Capsules: 2 Capsules once a day at bedtime with water. 
Anthram Mithram Gulika 400mg: 1 tablet once in a day 1 hour after meal with lukewarm water.
Kutaj Ghanvati: 1 tablet once in a day 1 hour after a meal with lukewarm water.
IAFA AF-7 Cream: Apply locally over the face.
IAFA 333 Shampoo: Apply locally over the scalp for head wash.
She's currently on a maintenance dose. 
Ultimate Conclusion
Food intolerance is a kind of allergy which our body produces when viruddha aahar is consumed by us. Food allergy can be a key to other health-related issues like skin allergies, weight gain, cardiac problems and many more. Food allergies must be treated in the initial stages so we can prevent them from leading to other issues.
That's why for a Food intolerance cure, one should visit IAFA where their allergies can be treated with 5000-year-old ancient Ayurveda. IAFA has been prospering with its miraculous ancient ayurvedic therapy worldwide. IAFA stands first in treating food allergies and other kinds of allergies. Not only allergies, but any kind of ailment, IAFA has a solution in Ayurveda: these are the words of our ayurvedic allergy specialist Dr Sahil Gupta. Nasal allergies, skin allergies, food allergies, gluten intolerance, cows' milk allergy or milk intolerances and many more, IAFA has therapy for it.
Book an online consultation and clear all your doubts. Become a member of our 50000+ happy and healthy patients worldwide. No matter where you are in the world, IAFA can reach you and can provide you unparalleled services.