Top Quality Ayurvedic Products, Herbal and Nutritional Supplements
We are manufacturer and supplier of top quality ayurvedic products, herbal and nutritional supplements. Our products are prepared from best quality herbs under supervision of Dr. Sahil Gupta (B.A.M.S., M.H.A.) by following the Principles of Ayurveda.
Historical inheritance and IAFA
Dr. Gupta's family is closely related to Ayurveda from ancient ages. The family tree from parental sides were blessed with eminent Vaidyas and herbal remedy specialists. IAFA is the output of Dr. Gupta's family to bring up the aim of Ayurveda service to the whole world. The herbal remedies used by the ancestors for maintain a healthy life was transferred to the upcoming generations of Gupta family and finally Dr.Gupta, known as the "Ayurvedic gem" of the whole family made it as a profession to serve the world through Ayurveda. The ancestral collection of knowledge in the form of "palm leaf manuscripts" are still used by Dr. Gupta for managing certain rare medical conditions. IAFA, known as the best Ayurvedic allergy specialists are really a blessing to the whole world in the propagation of real Ayurveda. Helping Ayurveda followers from ancient times till date, is the story of IAFA and it will continued forever.
Stories of Health
and healing
Reach us for permanent cure
with no chance of recurrence
History of 50000+
successfully treated patients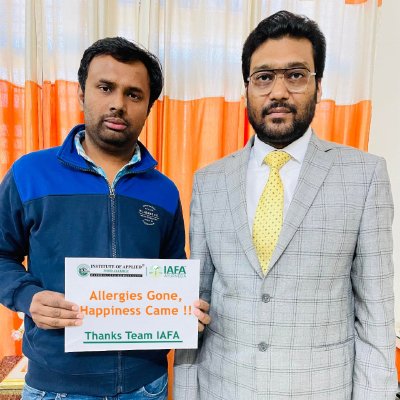 My Name is Rahul Saroha. I am from Sonipat, Haryana (India). I was suffering from Nasal Allergies and Chronic Bronchitis. Suddenly I was also infected with covid-19 so my chest congestion increased more. I took medicines from many clinics and hospitals but did not get relief anywhere. Finally, I got reference of IAFA. After taking herbal remedies of IAFA® prescribed by Dr. Sahil Gupta (B.A.M.S., M.H.A.), I got relief within 1 month.

Rahul Saroha, SonipatNasal Allergies and chronic Bronchitis
If you are suffering from any allergies or allergy like symptoms, do yourself a favour and book an appointment with Dr. Sahil Gupta from IAFA. I don't often put in a strong recommendation like this on Google but IAFA and especially Dr. Gupta deserves my strong recommendation. He is highly experienced and his focus on patient wellbeing and care is something I have not experience anywhere else (and trust me, I have consulted many doctors and specialist in my life).

Indy, AustraliaAllergy
Hi, I am Jacqueline from the USA. I am using Nasal Drops of IAFA as I am suffering from allergic rhinitis. Within few days I am feeling better. It's working for me. Thanks Doctor. Thank You IAFA.

Jacqueline, USAAllergic Rhinitis
My son Vansh 4 year old, was suffering from dryness with rashes on the body. My relative recommend me for IAFA. Under the guidance of Dr. Gupta we get to know the right diagnosis of my son that is multiple food allergies. Within a period of one and half month of treatment all the problems is now recovered. I recommend Institute of Applied Food Allergy for natural herbal treatment through Ayurveda approach.

Ravinder, PanipatMultiple Food Allergies
I came to IAFA after three years of suffering an autoimmune condition Lichen Planus as told by allopathic doctors. Someone recommended me Dr. Gupta at IAFA will help you out from this chronic itching and hyper pigmentation of my skin due to applications of stronger and stronger steroid creams. What became clear to me by Dr. Gupta during the Ayurvedic consultation followed by an ancient type of pulse diagnosis was that you are suffering from vata and kapha dosha dominant condition in class of kshudra kushtha as per Ayurveda. The oil prescribed to me for topical application followed by some oral herbal medicines to take following the dietary measures seriously. Gradually over 9 months the condition subsided, really much to my surprise and uplifts my faith in Ayurveda specifically in IAFA the only Institute in India for such skin ailments.

Prince Goel, NoidaLichen Planus
I was suffering from Allergic Rhinitis and was very restless because of it,was continuously sneezing and got rashes very easily. Tried many medications but nothing helped. But when I got treatment from Dr Sahil gupta Within 15 days of treatment the relief was great and within a month after following the medications sincerely now I am perfectly fine. Thankyou DOCTOR And also my faith in Ayurveda is much more stronger now. Also thanks to the staff for regularly helping me out with my doubts.

Divyanshi Luthra, GurugramAllergic Rhinitis
My chronic fungal infection of maxillary sinus and right eye orbit was completely cured within 9 months of Ayurveda treatment under the guidance of Dr. Sahil Gupta at IAFA. Before meeting Dr.Gupta. I underwent a plenty of unsuccessful treatments. I was hopeless until I met Dr. Gupta. He carefully examined me and gave me a treatment combined with diet as well regimen. I followed all the measures and got completely cured form my conditions through Ayurvedic management at Institute of Applied, Food Allergy. IAFA is the best destination for any kind of allergic disorders. Thank you Dr. Gupta and IAFA

Surender, YamunanagarMaxillary Sinus Aspergillum
Hi, I am Ranjana, from Noida. I have migraine since last 8 years. I have tried different medications for my condition and I did not felt any improvement. Recently, I got to know about Dr. Sahil Gupta and started to follow his medications as well as suggestions. Within a period of one month I felt betterment and now I am cured without any sign of migraine. I am very much thankful towards Dr. Sahil Gupta and IAFA.

Ranjana, NoidaChronic Refractory Migraine
I am grateful towards Dr. Sahil Gupta for curing my Chronic Rhinitis completely. I reached IAFA, after undergoing long-term treatment measures at different hospitals. Magically, Ayurveda and IAFA saved me from this chronic condition. I got completely cured within first month of treatment. I am happy to suggest Dr.Sahil Gupta and IAFA for all chronic conditions. Thanking once again!!!

Renu Sangwan, Najafgarh, DelhiChronic Rhinitis
Hi, myself Tamanna from Sonipat. I was suffering from Migraine headaches from last 8 months. I took treatments from different doctors from New Delhi and did not felt any satisfactory results. I am now on Ayurvedic treatment of Dr. Sahil Gupta at IAFA. I am feeling much better through various Ayurvedic measures of IAFA. I recommend Dr. Sahil Gupta to all.

Tamanna, sonipat, HaryanaMigraine
I was suffering from Acnes on my face. I used a lot of different medications as per dermatologists. I did not felt any benefits from those treatments. I was suggested by my friend, to visit Dr. Gupta's IAFA. I got completely cured by Dr. Gupta's Ayurvedic treatment. I recommend Ayurveda and IAFA to all

Sachin, NoidaCystic Acne Vulgaris
I was suffering from Pityriasis and Cystic Acne Vulgaris. I got to know about Dr. Sahil Gupta's Ayurvedic management. After taking treatment from Dr.Sahil Gupta I got very much relief from my symptoms. I recommend IAFA to all suffering from Pityriasis and Cystic Acne Vulgaris.

Pawan Taneja, Panipat, HaryanaPityriasis and Cystic Acne Vulgaris
I was suffering from Fungal infection. I depended of modern medications for relief. Even after long-term usage I did not felt any benefits from modern medicine. I consulted Dr. Sahil Gupta and collowed his treatment for two months. I got relief within the first month of treatment and I got completely cured by two month Ayurvedic treatment. Thanking Dr. Sahil Gupta and IAFA

Rajendra Saini, Jhunjhunu, RajasthanFungal infection
IAFA is the best destination for treating Lactose intolerance. I am a beneficiary in lactose intolerance Ayurvedic treatment from IAFA. I recommend all to visit IAFA and Dr.Sahil Gupta for treating chronic conditions through Ayurveda. Thank you Dr. Sahil Gupta and IAFA.

Vikram Girdhar, Jind, HaryanaLactose intolerance
I was suffering from Chronic Allergic Sinusitis and Tonsillitis from one year. One of my friend suggested Dr. Gupta and IAFA to me. I took three month of treatment at IAFA and got completely cured. Thank you Dr.Gupta

CA Vinod Goyal, New DelhiChronic Allergic Sinusitis and Tonsillitis
I was suffering from a skin condition named Seborrheic Dermatitis which manifests with the symptoms of scaly patches and redness of skin. Dr. Sahil Gupta's Ayurvedic treatment gave me great relief. I highly recommend IAFA and Dr. Sahil Gupta to all who are suffering from chronic skin conditions.

Mukesh Garg, Manager, Deutsche Bank, PuneSeborrheic Dermatitis
Hi, I am Abhimanyu. I started Ayurvedic treatment from Dr. Sahil Gupta for my skin condition named Eczema. I got completely cured after three months of Ayurvedic treatment. Thank you Dr. Sahil Gupta and IAFA

Abhimanyu, New DelhiEczema
Case Studies
Peanut allergy in children can be successfully treated with a high success rate by various Ayurveda treatment measures. Dr. Sahil...
Cow Milk Allergy, also known as Cow's Milk Protein Allergy (CMPA),
Food allergies in children can be treated with a high success rate by various Ayurveda treatment measures.
Popular herbs in Allergies
Ayurpediatrics A to Z
Breast milk is the most nutritious and perfect food for babies. Ayurveda as well as modern medicine...
The basic components of nutrients are proteins, carbohydrates, vitamins and minerals.
Having a new born baby in the family will be the happiest yet the most care requiring moment,
Allergies A to Z
8 January, 2022
Yeast is a living fungus that actively helps in the fermentation of...
Read More
Blogs
Irritable Bowel Syndrome is an intestinal disorder that causes conditions like stomach ache, diarrhea, constipation, cramping, abdominal pain, bloating, and...
Inflammatory Bowel Disease is a hooded term used for a group of disorders that cause chronic inflammation of the intestines...
error: Content is protected !!