Radhika, a 33-year-old female residing in Indore has been suffering from recurrent attacks of Urticarial rashes for the past 4-5 months. She has been experiencing swollen lips and red rashes all over her back. She further mentioned that she is allergic to milk, curd, and pulses and angioedema occurs after having apple cider vinegar and lemons. She approached IAFA®  online and took customized ayurvedic therapy and got cured completely of urticaria.  
Case Details 
Name: Radhika
Gender: Female
Age: 33 Years
UID No: 7781
DOA: 28/03/2023
Address: Indore 
A Brief Health History 
Radhika has been suffering from urticaria since childhood but the rashes have got worse over the past 4-5 months. 
Final Diagnosis
After a thorough examination of the rashes sent by the patient and considering her past medical history, Dr. Sahil Gupta has confirmed the diagnosis as "Sheetpitta" also known as "Urticaria." She had taken a 3-month Ayurvedic treatment from IAFA® along with personalized diet recommendations and professional guidance on the yoga asanas she can practice to get rid of inflammation from the body and keep inflammatory diseases like Urticaria in control. 
Let's see how those miraculous medications helped her to treat Urticaria and live a life without any worry of further allergies. 
A Brief About the Disease
Ayurveda mentions allergies as 'Srotasam Atipravruti' means 'body channels hyperactivity' many ayurvedic scriptures had mentioned this when an allergen enters into our body, our body considers it an antigen and starts producing inflammatory mediators to fight against allergens even though the allergens are harmless and are not dangerous in general. Thus inflammation is the main reason behind many allergic diseases like urticaria too. 
शीतमारुतसंस्पर्शात्प्रदूष्टौकफमारुतौ।
पित्तेनसहसंभूयबहिरन्तविसर्पत:॥
The above shloka represents the disease, urticaria. It says that the domination of vata and kapha doshas (cold potency doshas) over pitta dosha (hot potency) due to exposure to cold weather and breezes can cause inflammatory rashes over the skin. It's the dominance of cold over hot. It can be seen in anyone, especially in people who have dominant vata and kapha doshas. 
Causes of Urticaria 
As we discussed the main reason behind urticaria is the dominance of vata-kapha doshas over pitta but there are some other reasons which we can't neglect. 
Some foods like peanuts, nuts, eggs, fish, and foods containing gluten. 
Insect bites and stings.
Dust mites. 
Weak immune system.
Frequent infections.
Continuous exposure to extreme cold and hot weather. 
Use of certain medications like antibiotics. 
Symptoms of Urticaria 
Ayurveda explains the following symptoms of Urticaria:-
Varatidanshtra Vatashotha (skin becomes like a bite of Nettle sting). 
Kandu (itching). 
Toda (Pricking). 
Customized Ayurvedic Treatment for Urticaria and Angioedema by IAFA Ayurveda®
1. IAFA® Swaras Chikitsa: Bhoomi Amla Swaras:
30 ml twice a day with an equal amount of water 15-20 minutes before a meal. It helps in purifying the blood and cools down the body by reducing the burning sensation and itching. 
2. Sheetpitta Bhanjan Ras, Haridrakhandam, and Moti Pishti:
Add 10 grams of Sheetpitta Bhanjan Ras in 2 grams of Moti Pishti and 200 grams of Haridrakhandam and take 1 tsp twice a day with water. It works as kustaghna (relieves skin diseases), Dahasamaka (relieves itching) and is beneficial for the treatment of infections and urticaria pigmentosa. 
2 tablets twice a day with water after a meal. It's giving relief to millions suffering from adverse skin allergic conditions. 
One teaspoon for one cup of tea twice a day. It can be consumed in the place of your normal tea, it is used for skin rejuvenation and detoxification. It also balances the aggravated pitta dosha of the body. 
Dos' (Pathya)
Prefer plant-based milk over cows' milk.
Avoid dairy-based foods.
Always consume light and easily digestible food. 
Make a habit of frequent intake of water. 
Include green food in your diet. 
Consume fiber-containing fruits and vegetables. 
Consume pomegranate and apple juices daily in the morning and bael fruit in the afternoon. 
Don'ts (Apathya)
Food that's high in lactose and bad fats should be kept at bay. 
Packaged and fermented food should not be consumed. 
If possible, avoid seafood and non-vegetarian foods. 
Vegetables like eggplant, ladyfinger, mushroom, capsicum, and spinach shouldn't be taken.
Peanuts, cashew nuts, and pistachio should be avoided. 
Bananas and avocados can increase the chances of allergies. 
Shouldn't eat spicy foods and leftovers. 
Avoid any food that is toxic and alien to the body. 
Yoga Asanas
Below given yoga asanas play a key role in restricting the progression of the disease:- 
Vajrasana
Bhujangasana 
Salabhasana 
And practicing pranayama improves the disease condition:-
Bhastrika 
Shitali 
Shikari 
Home Remedies for Urticaria and Angioedema 
Include the intake of cumin water and fennel water daily to boost immunity, flush away toxins, and reduce inflammation. Allergies have shown a gradual improvement in people who take cumin water and fennel water regularly. 
Follow-Ups
The team IAFA® scheduled 3 follow-ups to track the improvement in her condition. And to no surprise, within a month of using the medicines, she had found great relief from burning rashes, and after a complete set of 3 months, she no longer experiences any minor rash on her skin, and her swollen lips (Angioedema) also completely recovered. We are grateful to be part of her health journey and glad to see her living a life without any allergies and urticarial rashes which have been haunting her since childhood. 
Happy Review from Radhika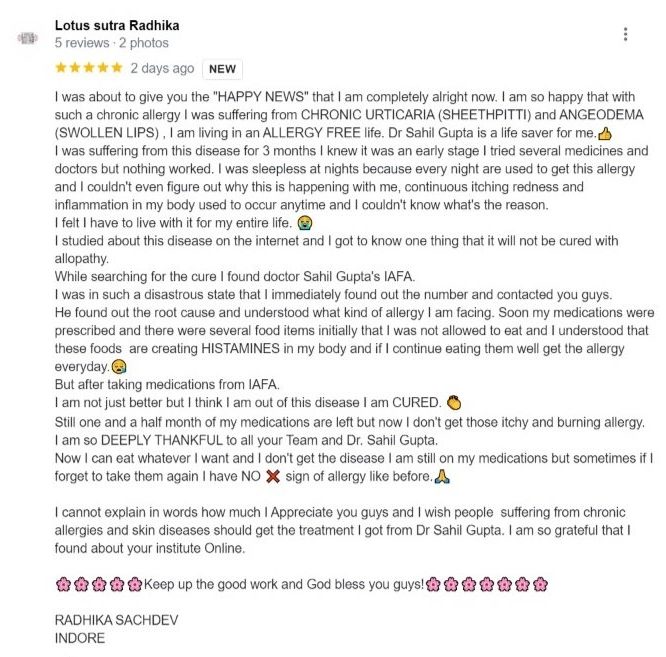 Hear from Radhika:-
I was about to give you the "HAPPY NEWS" that I am completely alright now. I am so happy that with such a chronic allergy, I was suffering from CHRONIC URTICARIA (SHEETAPITTA) and ANGIOEDEMA (SWOLLEN LIPS). I am living an ALLERGY-FREE life. Dr. Sahil Gupta is a lifesaver for me. I was suffering from this disease for 3 months. I knew it was an early stage. I tried several medicines and doctors but nothing worked. I was sleepless at night because every night are used to get this allergy and I couldn't even figure out why this is happening to me, continuous itching redness and inflammation in my body used to occur anytime and I couldn't know what's the reason I feel I have to live with it for my entire life? 
I studied about this disease on the internet and I got to know one thing that it will not be cured with allopathy.
While searching for the cure I found Dr. Sahil Gupta's IAFA®. 
I was in such a disastrous state that I immediately found out the number and contacted you guys.
He found out the root cause and understood what kind of allergy I am facing. Soon my medications were prescribed and there were some things initially that I was not allowed to eat. I understand that some of the foods are creating these histamines in my body and if I continue eating them I will get an allergy every day.
But after taking medications from IAFA®.
I am not just better but I think I am out of this disease and I am cured. 👏
Still, one and a half months of my medications are left but now I don't get that itchy and burning allergy. 
I am so deeply thankful to all your team and Doctor Sahil Gupta. 
Now I can eat whatever I want and I don't get the disease. I am still on my medications but sometimes if I forget to take them again I have nothing like before.
I cannot explain in words how much I appreciate you guys and I wish people suffering from chronic allergies and skin diseases should get the treatment I got from Dr Sahil Gupta. I am so grateful that I found out about your institute Online. 
Keep up the good work and God bless you guys!
These are the words that keep us moving and save many such lives by using ancient Ayurvedic medicines. 
The Bottom Line
Radhika has got treated for severe Urticarial rashes and Angioedema by using customized ayurvedic treatment of IAFA within 3 months and now she's happily living a life without any worry of allergies.
Do you have any such allergies which have been haunting you for ages? If yes, book your online consultation with Dr. Sahil Gupta right now, hurry up because Dr. Sahil Gupta's appointment is mostly booked, as he provides online consultations to patients from all around the world. He has decades of experience in treating various kinds of allergies and healing people naturally by using Ayurveda.
Grab your appointment now and have a talk with Dr. Gupta, he will surely help you to get rid of any kind of allergies, and even if your children are suffering from any fungal infections or allergies or food intolerances, reach out to Dr. Gupta as he's Specialized in treating Pediatrics also. Team IAFA® will be waiting for your consultation and is grateful to be a part of your journey.