Consult Online
with Dr. Sahil Gupta (B.A.M.S., M.H.A.)
Safe, Effective, and Successful Ayurvedic Treatment
Book an Appointment Now
You can easily avail this service by taking a prior appointment by entering the details provided below:-
Once the query is sent, IAFA will reach back through the communication choice selected by you with all the details of the consultation. The consultation will be performed by IAFA senior specialists.
Important Guidelines Include:
Please write all your information correctly.
Please write your City, State (Region), Country, and Comfortable Time to Contact You along with Your Health Concerns in the "Message" box.
After booking of Appointment and prior to consultation, please share your health ailment with a brief history, past medical treatment, and other diagnostic reports if possible at the e-mail id – info@iafaforallergy.com. So that, we can review your case and guide you better.
Kindly keep a pen and notebook ready if you need to write down anything important about diet or herbs during consultation.
After completion of the consultation, we will send you a PDF copy of personalised based Ayurveda Treatment, in which we will provide you each and every part of our conversation as well as the herbal remedies with their doses, description, diet, and lifestyles guidelines along with home remedies. It will take around 12-24 hours to prepare your case papers after consultation.
If you will proceed with IAFA® herbal remedies, then we will provide you additional two follow-ups in a month with our IAFA® health experts.
Online Ayurvedic Consultation – Over Video & Voice Calls
You will be glad to know that now, you don't even need to leave the comfort and safety of your homes to get the much-needed Ayurvedic Consultation. You can now simply get in touch with Dr. Sahil Gupta (B.A.M.S., M.H.A.) for a trustworthy Online Ayurvedic Consultation. For your convenience, we are now readily available for consultation over video & voice calls also. The guided herbal products during Online Ayurvedic Consultation can be delivered to your doorstep. For More information, you can call us at (+91) 961-218-0000.
In the present scenario of a pandemic disease named COVID-19, our online consultation helps everyone to attain health assistance following the guidelines of WHO.
Dr. Sahil Gupta
(B.A.M.S., M.H.A.)
Benefits of Online Consultation
What We Offer
Unique Advantages of Consultation at IAFA®
Face-to-Face Consultation
Detailed Assistance & Guidance
Customized Herbal Remedies, Diet & Lifestyle Guidelines
Guided Herbal Products Delivery at Your Doorstep
Case Studies
A Brief Intro About the Patient's Condition Jessy Johnson, a...
Read More
Stories of Health and Healing
Reach us for permanent cure
with no chance of recurrence
History of 50000+
successfully treated patients
I had such a great experience with Dr. Sahil Gupta. My daughter was suffering from Eczema since she was 3 months old. We tried many medicines in Canada and continuing trying but no relief. We tried homeopathy last year but that medicine worse her condition. One day I found IAFA through internet. I contacted to IAFA and booked online consultation with Dr. Sahil Gupta. I told him about my daughter's skin problem and he started treatment and within 2 months my daughter's Eczema gone now she is free from Eczema and itching. I highly recommended Dr. Sahil Gupta for skin problem, nasal problem and food intolerance. Thanks to Dr. Sahil Gupta and I really appreciate you.

Anjana (Patient's Mother), CanadaAllergy March
My 2-year-old son was suffering from allergy for around a year. We tried multiple hospitals and doctors before I found IAFA on the Internet, but found no relief anywhere. Then I consulted with Dr. Gupta and followed whatever he suggested and the medication he provided. In a couple of months, my son was better and in the third month, he is totally fine. I'm writing this review after I watched for a relapse of the allergy or anything for 2 months. But he is doing great and I'm very thankful to Dr. Gupta.

Mayank Joshi (Patient's Father), IndiaEye Allergy
Hello, My name is Ram Kishan. I was suffering from Chronic Bronchitis. Visited many clinics/hospitals and consulted many doctors but did not get relief anywhere. At last, I got reference of IAFA. After consultation, I had been prescribed some medications along with some dietary and lifestyle change guidelines. I started the treatment process and followed the same medications and guidelines. After 9 months, I got full relief. I am very thankful to IAFA Ayurveda Doctors and the Customer Care Team.

Ram Kishan, IndiaChronic Bronchitis
Hi, My name is Armaan. I was suffering from Food, Skin, and Nasal Allergies. Along with my parents, I visited many treatment centers/hospitals and consulted many doctors but did not get relief anywhere. At last, my parents got reference of IAFA. After consultation, I had been prescribed some medications along with some dietary and lifestyle change guidelines. I started the treatment process and followed the same medications and guidelines. After 3 months, I got full relief. I am very thankful to Dr. Sahil Gupta. Thanks.

Armaan, IndiaFood, Skin, and Nasal Allergies
Hello, My name is Soniya, I was suffering from Nasal Polyps. Visited many treatment centers and consulted many doctors but did not get relief anywhere. At last, I got a reference of IAFA Ayurveda, Contacted IAFA Team immediately & booked an appointment for a consultation. After consultation with Dr. Sahil Gupta, I had been prescribed some medications along with some dietary and lifestyle changes guidelines. I joined the treatment process and followed the same medications and guidelines. After 3 months, I got complete relief. I am very thankful to IAFA Ayurveda, they gave me my life back.

Soniya, IndiaNasal Polyps
Hello, I am Sunil Devi, I was suffering from Migraine due to Food Allergy and Acid Peptic Disease. Visited many treatment centers and consulted many doctors but did not get relief anywhere. At last, I got reference of IAFA Ayurveda, Contacted IAFA Team immediately & booked an appointment for a consultation. After consultation with Dr. Sahil Gupta, I had been prescribed some medications along with some dietary and lifestyle changes guidelines. I joined the treatment process and followed the same medications and guidelines. After 3 months, I got complete relief. I am very thankful to IAFA Ayurveda, they gave me my life back.

Sunil Devi, IndiaMigraine due to Food Allergy and Acid Peptic Disease
Hi, My name is Amarjeet. I was suffering from Seborrheic Dermatitis. I visited many treatment centers and consulted many doctors but did not get relief anywhere. At last, I got reference of IAFA Ayurveda. After consultation, I had been prescribed some medications along with some dietary and lifestyle changes guidelines. I joined the treatment process of IAFA Ayurveda and followed the same medications and guidelines. After 2 months, I got full relief. I am very thankful to IAFA Ayurveda Doctors and the Customer Support Team.

Amarjeet, IndiaSeborrheic Dermatitis
My name is Prashant. I am Living in Delhi-NCR (India) with my parents. A few years ago, I was diagnosed with Cow Milk Allergy, Allergic Rhinitis, and Nasal Polyps. Visited many clinics, hospitals, and doctors but did not get relief anywhere. At last, I got the reference of Dr. Sahil Gupta (Institute of Applied Food Allergy®). Connected to get medications for the same. He advised me of certain internal ayurvedic medications along with some external therapies. These works for me miraculously. I got complete relief in just 1 month. Thanks Doctor, Thanks IAFA®!!

Prashant, Delhi-NCRCow Milk Allergy, Allergic Rhinitis, and Nasal Polyps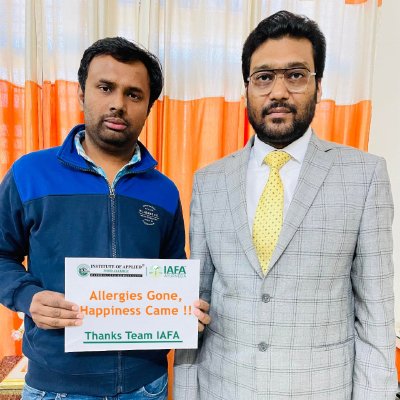 My Name is Rahul Saroha. I am from Sonipat, Haryana (India). I was suffering from Nasal Allergies and Chronic Bronchitis. Suddenly I was also infected with covid-19 so my chest congestion increased more. I took medicines from many clinics and hospitals but did not get relief anywhere. Finally, I got reference of IAFA. After taking herbal remedies of IAFA® prescribed by Dr. Sahil Gupta (B.A.M.S., M.H.A.), I got relief within 1 month.

Rahul Saroha, SonipatNasal Allergies and chronic Bronchitis
If you are suffering from any allergies or allergy like symptoms, do yourself a favour and book an appointment with Dr. Sahil Gupta from IAFA. I don't often put in a strong recommendation like this on Google but IAFA and especially Dr. Gupta deserves my strong recommendation. He is highly experienced and his focus on patient wellbeing and care is something I have not experience anywhere else (and trust me, I have consulted many doctors and specialist in my life).

Indy, AustraliaAllergy
My son Vansh 4 year old, was suffering from dryness with rashes on the body. My relative recommend me for IAFA. Under the guidance of Dr. Gupta we get to know the right diagnosis of my son that is multiple food allergies. Within a period of one and half month of treatment all the problems is now recovered. I recommend Institute of Applied Food Allergy for natural herbal treatment through Ayurveda approach.

Ravinder, PanipatMultiple Food Allergies
I came to IAFA after three years of suffering an autoimmune condition Lichen Planus as told by allopathic doctors. Someone recommended me Dr. Gupta at IAFA will help you out from this chronic itching and hyper pigmentation of my skin due to applications of stronger and stronger steroid creams. What became clear to me by Dr. Gupta during the Ayurvedic consultation followed by an ancient type of pulse diagnosis was that you are suffering from vata and kapha dosha dominant condition in class of kshudra kushtha as per Ayurveda. The oil prescribed to me for topical application followed by some oral herbal medicines to take following the dietary measures seriously. Gradually over 9 months the condition subsided, really much to my surprise and uplifts my faith in Ayurveda specifically in IAFA the only Institute in India for such skin ailments.

Prince Goel, NoidaLichen Planus
I was suffering from Allergic Rhinitis and was very restless because of it,was continuously sneezing and got rashes very easily. Tried many medications but nothing helped. But when I got treatment from Dr Sahil gupta Within 15 days of treatment the relief was great and within a month after following the medications sincerely now I am perfectly fine. Thankyou DOCTOR And also my faith in Ayurveda is much more stronger now. Also thanks to the staff for regularly helping me out with my doubts.

Divyanshi Luthra, GurugramAllergic Rhinitis
My chronic fungal infection of maxillary sinus and right eye orbit was completely cured within 9 months of Ayurveda treatment under the guidance of Dr. Sahil Gupta at IAFA. Before meeting Dr.Gupta. I underwent a plenty of unsuccessful treatments. I was hopeless until I met Dr. Gupta. He carefully examined me and gave me a treatment combined with diet as well regimen. I followed all the measures and got completely cured form my conditions through Ayurvedic management at Institute of Applied, Food Allergy. IAFA is the best destination for any kind of allergic disorders. Thank you Dr. Gupta and IAFA

Surender, YamunanagarMaxillary Sinus Aspergillum
Hi, I am Ranjana, from Noida. I have migraine since last 8 years. I have tried different medications for my condition and I did not felt any improvement. Recently, I got to know about Dr. Sahil Gupta and started to follow his medications as well as suggestions. Within a period of one month I felt betterment and now I am cured without any sign of migraine. I am very much thankful towards Dr. Sahil Gupta and IAFA.

Ranjana, NoidaChronic Refractory Migraine
I am grateful towards Dr. Sahil Gupta for curing my Chronic Rhinitis completely. I reached IAFA, after undergoing long-term treatment measures at different hospitals. Magically, Ayurveda and IAFA saved me from this chronic condition. I got completely cured within first month of treatment. I am happy to suggest Dr.Sahil Gupta and IAFA for all chronic conditions. Thanking once again!!!

Renu Sangwan, Najafgarh, DelhiChronic Rhinitis
Hi, myself Tamanna from Sonipat. I was suffering from Migraine headaches from last 8 months. I took treatments from different doctors from New Delhi and did not felt any satisfactory results. I am now on Ayurvedic treatment of Dr. Sahil Gupta at IAFA. I am feeling much better through various Ayurvedic measures of IAFA. I recommend Dr. Sahil Gupta to all.

Tamanna, sonipat, HaryanaMigraine
I was suffering from Acnes on my face. I used a lot of different medications as per dermatologists. I did not felt any benefits from those treatments. I was suggested by my friend, to visit Dr. Gupta's IAFA. I got completely cured by Dr. Gupta's Ayurvedic treatment. I recommend Ayurveda and IAFA to all

Sachin, NoidaCystic Acne Vulgaris
I was suffering from Pityriasis and Cystic Acne Vulgaris. I got to know about Dr. Sahil Gupta's Ayurvedic management. After taking treatment from Dr.Sahil Gupta I got very much relief from my symptoms. I recommend IAFA to all suffering from Pityriasis and Cystic Acne Vulgaris.

Pawan Taneja, Panipat, HaryanaPityriasis and Cystic Acne Vulgaris
I was suffering from Fungal infection. I depended of modern medications for relief. Even after long-term usage I did not felt any benefits from modern medicine. I consulted Dr. Sahil Gupta and collowed his treatment for two months. I got relief within the first month of treatment and I got completely cured by two month Ayurvedic treatment. Thanking Dr. Sahil Gupta and IAFA

Rajendra Saini, Jhunjhunu, RajasthanFungal infection
IAFA is the best destination for treating Lactose intolerance. I am a beneficiary in lactose intolerance Ayurvedic treatment from IAFA. I recommend all to visit IAFA and Dr.Sahil Gupta for treating chronic conditions through Ayurveda. Thank you Dr. Sahil Gupta and IAFA.

Vikram Girdhar, Jind, HaryanaLactose intolerance
I was suffering from Chronic Allergic Sinusitis and Tonsillitis from one year. One of my friend suggested Dr. Gupta and IAFA to me. I took three month of treatment at IAFA and got completely cured. Thank you Dr.Gupta

CA Vinod Goyal, New DelhiChronic Allergic Sinusitis and Tonsillitis
I was suffering from a skin condition named Seborrheic Dermatitis which manifests with the symptoms of scaly patches and redness of skin. Dr. Sahil Gupta's Ayurvedic treatment gave me great relief. I highly recommend IAFA and Dr. Sahil Gupta to all who are suffering from chronic skin conditions.

Mukesh Garg, Manager, Deutsche Bank, PuneSeborrheic Dermatitis
Hi, I am Abhimanyu. I started Ayurvedic treatment from Dr. Sahil Gupta for my skin condition named Eczema. I got completely cured after three months of Ayurvedic treatment. Thank you Dr. Sahil Gupta and IAFA

Abhimanyu, New DelhiEczema