As per Ayurveda Ghee is considered a good beneficial fat that has immense advantages when consumed in its purest form. Ghee aka Grutham is packed with a lot of minerals, good fats, essential vitamins, and nutrients. Ayurveda recommends including a teaspoon full of ghee in every meal to reap its advantages. But nowadays ghee is mostly adulterated and sold to the people. Consuming adulterated ghee brings you many health issues and also ruins your health in the long run. Ayurveda discourages the consumption of adulterated, chemically added foods. So, we are here with this article explaining the traditional Ayurvedic Bilona method to make desi ghee from A2 cow milk. 
Stepwise Guide to Making A2 Cow Ghee (Grutham) at Home by Bilona Method
Here you will know a clear step-wise guide to making desi ghee from A2 Cow Milk by the traditional Ayurvedic Bilona method.
1. Choosing Milk and Vessel
To get natural flavored ghee, milk must be of natural origin. Indian desi cow's milk (A2 milk) is the best option to make ghee. A2 milk is packed with essential nutrients and minerals as the A2 cows are not tied and consume the naturally grown grass in the fields. So, A2 milk is devoid of artificially added preservatives or chemicals.
Earthen pots or copper/brass vessels are the best to boil the milk as per Ayurveda. Because since ages, we as Indians have always been using earthen pots and copper vessels for cooking. The non-stick wares were designed recently with toxic chemicals. So always choose earthen pots or copper vessels to boil the A2 milk.
A2 milk and
Earthen pots or copper vessels.
Read – A1 Milk Vs A2 Milk – Which is the Best as per Ancient Ayurveda?
2. Boiling Milk
Let's start making the Ayurvedic ghee recipe. Now we have chosen the milk and the vessel, so the next step is to boil the milk under medium flame. It should be boiled to around 100°C. Milk should not be under-boiled or over-boiled. A2 milk should be properly boiled to kill the harmful bacteria and allow the settling of curd correctly.
Read – Traditional Method and Correct Way to Boil Milk
3. Making Curd
Once the A2 milk is boiled in an earthen pot or copper vessel, keep the vessel for some time aside to cool down to around 80°C. After that, add an A2 milk curd starter to the milk and stir it with a stirrer or spatula. Keep the vessel aside in a warm place like a corner on your kitchen slab and note that the vessel should not be kept in the refrigerator soon after adding the starter.
Read – Traditional Way of Making Perfect Curd (Hypoallergenic Curd) from A2 Milk
4. Churning the Curd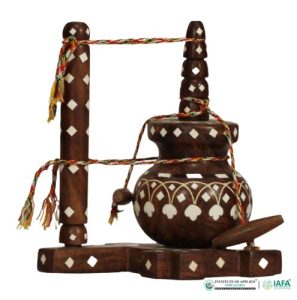 After the curd is settled, take it out for churning. It would be best if you have a traditional buttermilk churner at home to churn the curd. If you don't have it, no problem, you can use a wooden churner or a stainless steel churner. But avoid using plastic churners as it is full of harmful chemicals that can be induced in the food.
Now churn the curd to separate the butter from the curd leaving behind buttermilk. Churn the curd until you can notice the butter getting separated from the curd.
5. Melting the Butter
Once you get butter after churning it traditionally, melt the butter in a saucepan. Avoid using non-stick wares. It would be better if you get an earthen pan. Melt the butter by keeping the flame on medium. Butter gets melted by evaporating the water present in the butter. You can observe the small nodules of ghee made from the butter. Then it's time to turn off the flame. Ghee should be in golden color and should not be over-burned.
6. Ghee in Your Pot
Collect the Shudh Ghee made from A2 milk in your earthen pot. If you prepare in this traditional way, the aroma of ghee can be easily caught. You can store ghee made from A2 milk for about more than a year and can be used daily a teaspoon full in your meals. Do not store ghee in any plastic containers. Use copper or stainless steel containers to store the ghee for a long time.
This is the traditional Ayurvedic Bilona method to make desi ghee from A2 cow milk.
Why should Ghee Be Prepared Using the Bilona Method and What are its Benefits?
Even though bilona ghee process is a manual and slow process, the ghee obtained is shuddh, tastier and healthier. The ghee prepared using A2 milk in the bilona method is full of vitamins, essential fatty acids, omega-3 fatty acids, antioxidants, and vital nutrients. Consuming shudh ghee prepared from the bilona method helps to reduce the harmful cholesterol in our bodies and keep us away from cardiac disorders.

Dr. Sahil Gupta at IAFA® not only treats various allergies and diseases with the use of ancient ayurvedic herbs and also encourages his patients to maintain a good ayurvedic diet including wholesome foods made traditionally and of natural origin. If you are considering getting advice from Dr. Gupta about your food habits and also to get rid of allergies, book your appointment to consult now and live a healthier and happier life.