IAFA Ayurveda®, Gohana, Haryana, India Expands to Chandigarh, New Branch to Offer Comprehensive Health Services. It is ayurvedic allergy care, a leading provider of healthcare services, including treatment of a wide range of allergies specialised in paediatrics but not limited, and is pleased to announce the opening of its newest branch in the green beautiful city of Chandigarh. The new location will offer a wide range of medical services, including natural ayurvedic treatment of Nasal Allergies, Skin Allergies, Food Allergies, Eye Allergies, Fungal Infections and any other diseases related to paediatrics.
"We are excited and pleased to bring our high-quality healthcare services to the Chandigarh community," said Dr. Sahil Gupta, CEO and founder of IAFA Ayurveda®, India.
We would take the privilege to inform you that In 2022, we started a new branch of our clinic in Delhi, the NCT of India, and got the opportunity to treat the Delhiites. Now, we're expanding to Chandigarh, a new city hoping to fulfil all the healthcare needs of the Chandigarh community.
"Our team of experienced and compassionate Ayurveda experts is dedicated to providing personalised care to every patient. We are confident that our new branch will be a valuable asset to the community, and we look forward to serving the healthcare needs of the residents (especially any kinds of allergies) of Chandigarh."
The new branch is conveniently located at SCO 312, 1st Floor, Sector 38-D, Chandigarh and will be open every day, from 9 am to 6 pm. IAFA Ayurveda® is the leading institution in the treatment of various kinds of allergies and patients can expect a comfortable and welcoming environment. In addition, the clinic will offer online consultation services too so that the patients can schedule appointments online in advance to avail of effective and timely services.
For more information about IAFA Ayurveda®, and the services offered at the new branch in Chandigarh please visit here or call (+91) 910-000-9815.
A Brief about IAFA Ayurveda®, India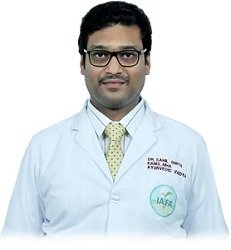 IAFA Ayurveda®, India is a leading Ayurvedic healthcare provider, offering comprehensive medical services to patients of all kinds of allergies from all ages specialising in paediatrics. The clinic is committed to providing personalised care, and ayurvedic treatment with herbal medicines manufactured under the guidance of Dr. Sahil Gupta who has around 14+ years of experience the team IAFA® always provides extensive support to each patient and is highly dedicated to improving the overall health and well-being of the communities it serves.
Our CEO and Founder, Dr. Sahil Gupta always says "Your Health is Our Priority."
Contact Details:-
IAFA Ayurveda®,
Phone No.: (+91) 961-218-000, (+91) 910-000-9815,
Address: SCO 312, 1st Floor, Sector 38-D, Chandigarh – 160036.
Website: www.iafaforallergy.com
Online Store: store.iafaforallergy.com