A Brief About the Case
Mukul, a 20-year-old male patient, hailing from Faridabad, Haryana, India has been suffering from severe rashes, flakes, itching and oozing over the skin, scalp and on the eyes with constipation. The symptoms used to worsen in the winter. He tried all the known conventional medicines but did not find relief, it has been haunting for the last 2 years and in no time his symptoms worsened. 
Luckily he got a reference about Dr Gupta from one of his family friends and he visited IAFA Ayurveda located in Delhi, India and got successful treatment for his condition within a limited period.
IAFA Ayurveda tops in the treatment of skin allergies like Eczema, seborrheic dermatitis, and other related conditions because IAFA Ayurveda focuses on the treatment of the root cause of the disease and helps in the elimination of the root cause. Mukul treated successfully, what's stopping you from getting permanent relief from eczema, skin allergies, atopic dermatitis, Seborrheic dermatitis and other related conditions? Book your online consultation now with Dr. Sahil Gupta and get successful Ayurvedic treatment. You can visit us offline and also schedule a hassle-free online consultation. 
Case Details
Name: Mukul
Age: 20-Years-Old
Gender: Male
UID: 7502
Address: Faridabad, Haryana
DOA: 17/12/2022
How Was His Condition When He Visited IAFA? 
His Eczema and seborrheic dermatitis were very severe and he used to get oozes over the scalp. Itching was irresistible and skin used to become thick and patchy upon scratching. His eyes, ears and scalp were extremely affected and his condition was very severe. As per his symptoms, Dr Sahil Gupta referred to his condition as a severe oozing stage. Dr Gupta also gathered past medical information about the various medications he used, and if he had any history of major illnesses, but did not find any. So Dr Gupta started his personalised ayurvedic medications immediately and advised the patient to continue the medications for about 6 months and witness the results.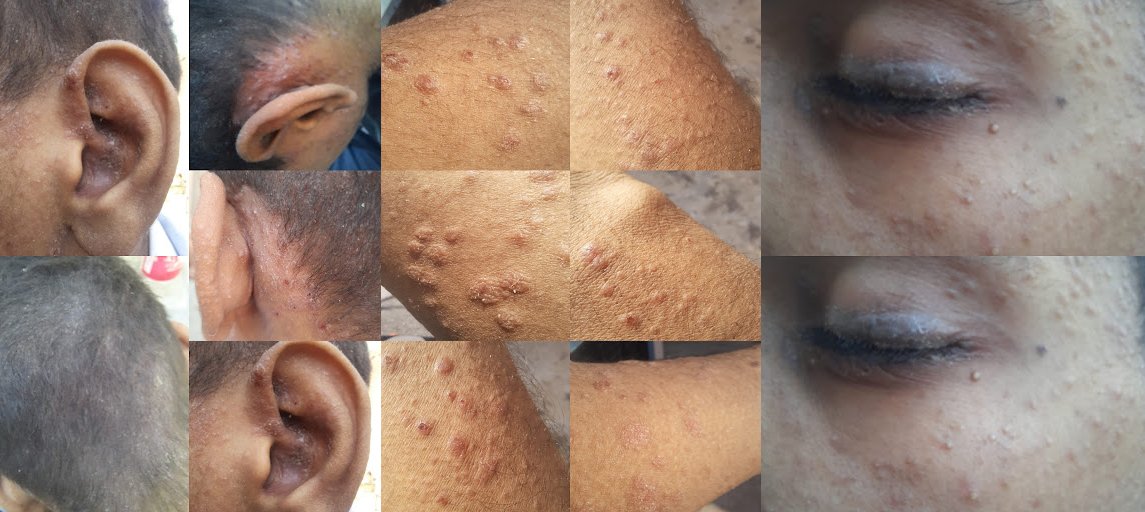 You can look at the pictures, his eyes, ears, and arms were severely affected. 
Ayurvedic Version of the Disease 
Ayurveda explains Eczema as vicharchika, a skin disorder manifested by itchy black-coloured bumps with heavy oozing. Rashes can be patchy, and severe itching and bleeding can also be seen upon itching. Seborrheic dermatitis can be explained as Darunaka, a kapala gata roga that comes under the roof of shudra roga due to the vitiation of vata and kapha doshas. The most common symptoms include Kandu (itchy scalp), keshachyuti (falling of hair), swap (abnormalities of touch sensation on the scalp), rookshata (roughness or dryness of the scalp), and Twaksphutana (breaking or cracking of the scalp skin). 
Causes of Eczema
Eczema can be caused due to various reasons, some are the following:
Dry weather 
Makeup products 
Smoke and pollutants
Stress
Allergens like dust, pollens and certain medications. 
Causes of Seborrheic Dermatitis 
Seborrheic dermatitis can be majorly caused due to the following reasons:-
Overgrowth of yeast (fungi).
Stress.
Fatigue.
Season changes.   
Mental health conditions such as depression.
Immune system disorders. 
Nervous system disorders like Parkinson's disease.
Chief Complaints of the Patient 
Skin rashes all over the body specifically present over the ears and eyes. 
Itching, dryness, soreness, oozing and swelling.
Flakes with itching and oozing over the scalp.
Constipation.
The symptoms become worse in the winter season. 
Final Diagnosis 
Upon physical examination of the patient's symptoms and his medical history, Dr Sahil Gupta confirmed the condition as vicharchika (Eczema) and Darunaka (Seborrheic dermatitis) and prescribed the medication. 
Treatment of Eczema and Seborrheic Dermatitis at IAFA Ayurveda
For the treatment of eczema and seborrheic dermatitis, Dr. Sahil Gupta prescribed below given medications:-
External Procedure 
1) IAFA 333 Oil:
Apply 333 oil all over the dry and affected area twice a day and during an allergic response. It has anti-allergic, antioxidant and anti-inflammatory and anti-microbial properties. 
2) IAFA Skin Fresh Bar:
Use IAFA skin fresh bar instead of a normal bathing bar helps in providing a moisturising effect on the body and prevents the body from excessive dryness. 
3) IAFA 333 Shampoo:
IAFA 333 shampoo consists of herbs that prevent the growth of yeast thereby reducing the symptoms of Seborrheic dermatitis. 
4) Akshi Tarpana Grutham:
Add 1-2 drops of Akshi Tarpana Grutham in both eyes and witness the results.  
Internal Medication
5) IAFA Swaras Chikitsa – Bhoomi Amla Swaras:
30 ml twice a day before a meal. It helps in reading teh burning sensation and purifies the blood.
6) Makoye Swaras:
30 ml twice a day before a meal. 
7) Pitpapra Capsules:
1 capsule twice a day 15 minutes before meal. 
8) IAFA Skin Detox Tablet: 
2 tablets twice a day after a meal. 
Dietary Guidance
Do's (Pathya):-
Light and easily digestible food.
Freshly home-cooked meals.
Nutritious food. 
Include whole grains, millet, nuts and fresh fruits. 
Don'ts (Apathya):-
Dairy products.
A1 milk, cream cheese.
Gluten, high-fat foods.
Packaged foods.
Fermented foods. 
Follow-Ups
Dr. Sahil Gupta advised Mukul to continue the medication for about 3 months then Dr Gupta and the team scheduled 3 follow-ups, one each month. 
Follow-Up #1
During the first month of treatment, itching, oozing and other related symptoms have seen a significant improvement. No changes in the medication have been made. 
Follow-Up #2
Dr Gupta has advised the patient to undergo the same medication for another month to see significant results. During the 2nd month of treatment, seborrheic dermatitis seemed to be improved than before. 
Follow-Up #3
After continuous use of medication for 3 months, around 80% of his eczema-related symptoms and seborrheic dermatitis symptoms have improved. And after 3 months of therapy, Dr Gupta replaced (9) IAFA 333 Oil with (10) IAFA E-5 Cell Repair Oil, (11) Bhoomi Amla Swaras and (12) Makoye Swaras with (13) Total Care 3X Ras and advised to continue these medications for another 3 months, meanwhile following up regularly to track the progress. 
Follow-Up #4
We have mentioned here the integration of 3 months of follow-up done by the team IAFA. After using the medications for another 3 months significant improvement in his condition has been witnessed. Eczema over his eyes has returned to normal, and the spreading of seborrheic dermatitis over his ears and face was reduced.
Follow-Up #5
After the use of changed medications for another 3 months, Dr Sahil Gupta made major changes in the prescription to track whether his body is addicted to the medicines or not. This can help assess the recurrence of the disease. The medications given to the patient were:
14) IAFA Skin Fresh Bar
15) Aahar Amrutham Ras
16) Aahar Amrutham Gulika
17) Triphala Capsules
18) Kutaj Ghan Vati
19) Bhoomi Amla Capsules
Follow-Up #6
During the last month of medication, Dr. Sahil Gupta completely changed the prescription to review the condition and also to know the recurrence. The following were the medications: 
20) Triphala Capsules
21) Pitpapra Capsules
22) Mahamanjishthadi Kashayam
23) Arogyavardhini Vati
24) E-5 Cell Repair Oil
25) Skin Fresh Bar
After using these medications all his disease conditions were significantly improved and he no longer suffers from either Eczema or seborrheic dermatitis even after stopping the medications, no recurrence of the disease has been witnessed. He is recommended only with external application medications as maintenance therapy.
A Happy Review from the Patient

A Quick Wrap Up
Eczema and seborrheic dermatitis are allergic conditions and if left untreated can lead to dangerous symptoms like anaphylactic shock and sometimes even death. Eczema and seborrheic dermatitis are very common nowadays due to ever-changing environments and food habits. Ayurveda, which eliminates the root cause of the disease and also helps in the balance of 3 doshas thereby balancing the whole bodily functions. Consult now with Dr Sahil Gupta and get successful Ayurvedic treatment for all kinds of allergies, fungal infections, paediatric diseases and other lifestyle disorders without any worry about side effects. Mukul got his treatment within 6 months of using ayurvedic medications, what's stopping you from getting successful ayurvedic treatment for all your disease conditions? Schedule your online consultation now and enjoy hassle-free consultation.