Abstract
Robindeep Singh has been suffering from Esopahigits and had undergone allopathic treatment in the past. He visited IAFA® to get a permanent cure for his disease. He has undergone a 3-month miraculous ancient Esophagitis Ayurvedic treatment and diet recommendations by Dr. Gupta at IAFA®. 
Give a read to this case study to get a clear idea of how he got treated in 3 months and how you can also get your therapy for any types of allergies and various other conditions at IAFA®. 
Robindeep Singh consulted Dr. Gupta through online consultation and his chief complaints were difficulty swallowing, chest pain, pain during swallowing, improper digestion, and heartburn. These are the general symptoms one can observe in any patient with esophagitis. The main cause of esophagitis is acid reflux into the esophagus which can otherwise be known as GERD (Gastroesophageal reflux disease), and other causes include infections due to bacteria, viruses, and fungi, and the use of medications such as aspirin and NSAIDs.
After reviewing the endoscopy results of the patient along with ashtavidha pariksha as per ancient Ayurveda, Dr. Gupta concluded the condition as Amla Pitta (Esophagitis) and started his miraculous ancient Esophagitis Ayurvedic treatment. The medicines included digestive wellness herbs and the herbs that balance the digestive fire ( Agni) thereby improving the digestion of the patient. 
The best part about IAFA® is their team's continuous follow-up for about 3 months helping you with the diet, or medications guide or consulting with Dr. Gupta in case needed.
As we expected, around 70% of relief has been achieved during the first month, but our main aim is to get a 100% cure for the disease. So Dr. Gupta recommended the patient the therapy for the next two months to achieve Esopahigits successful treatment.
Keywords: Esophagitis treatment, Esophagitis successful treatment, Esophagitis cure, Esophagitis Ayurvedic treatment.
Introduction
Esophagitis is the inflammation of the esophagus, the tube that delivers the food from our mouth to our stomach. It damages the tissue of the esophagus. In Ayurveda, Esophagitis can be correlated with Amlapitta. Amlapitta is one of the commonest Vyadhi (disease) of Annavahasrotas (Gastrointestinal tract disorders) which is caused by vitiated Agni (Digestive Fire).
Agni is elevated in this condition, it is the fire required for the digestion of the food, but it should be in the normal range, if the range exceeds food will remain undigested. Undigested food becomes sour on fermentation and produces toxins. These toxins combine with vitiated pitta and produce Amla Pitta. 
Causes of Esophagitis
The cause of esophagitis is food intolerance including the intake of the wrong combination of foods, in Ayurveda, we call it intake of virudha, which is incompatible food combinations (Food Allergy). 
Regurgitation of food back to the esophagus from the stomach. 
Intake of certain medications like Aspirin and anti-inflammatory drugs.
Infections due to bacteria, viruses, or fungi.
Read: Esophagitis – Causes, Symptoms, Do's, Don'ts, Yoga, Ayurveda Treatment: Complete Ayurveda Details
Case Report
Patient Name: Robindeep Singh
Age: 22 years old
Gender: Male
Place: Punjab, India
UID: 6949
Date of Appointment: 28/02/2022
Clinical Symptoms:
The patient reached IAFA® with the given symptoms of Esophagitis.
Difficulty swallowing
Pain during swallowing
Heartburn
Epigastric pain
Frequent belching
Water brash
Headache
Nausea and vomiting
Chest pain 
Diagnosis:
The patient has visited the IAFA® with the above-mentioned symptoms and endoscopy results. Dr. Sahil Gupta ruled out the root cause of the condition. The root cause of esophagitis, in this case, was due to intake of the wrong combination of food like milk along with non-veg foods. Due to this unwholesome food combination in Robandeep, an Allergy march is there and these food intolerances progress towards esophagitis.  
The reports of the patient's endoscopy have attached below for reference purposes. 
Reports of Endoscopy:
Final Diagnosis
Dr. Gupta has expertise in root cause diagnosis and the final diagnosis ruled by him is Amla Pitta (Esophagitis) due to food intolerances. 
Esophagitis Ayurvedic Treatment Plan
Dr. Gupta had given a holistic treatment for the root cause which is food intolerances and esophagitis. The herbal medications include:
1. IAFA Swaras Chikitsa – Aahar Amrutam Ras:
This medication helps the patient to get relief from food intolerance and enhances digestion.
60 ml with an equal amount of water after meals twice a day. 
It is infused with digestive wellness herbs. Keeps intestinal balance healthy and helps to reduce Anna-Rasa-udaka vaha srotasam Atipravruti. 
It is a 100% Natural product free from artificial sweeteners, flavor, and colors.
It's devoid of wheat, gluten, dairy, corn, soy, eggs, tree nuts, peanuts, fish, or shellfish.
It supports care and repair of the GI tract and helps to improve digestion at the level of Grahami. So if there is any inflammation in the esophagus, this herb helps to treat the inflammation.
Two capsules a day, one in the early morning on an empty stomach and the other in the evening.
It is an ayurvedic herb containing the purified extract of Pitpapra (Fumaria Indica). It is usually given to the patient whose pitta dosha is dominated. It has cooling properties thereby fighting to reduce the pitta dosha.
4. IAFA AF-7 Tea (Pitta Balancing Tea):
1 teaspoon i.e., approximately 2.5 gm for 1 cup of tea.  Can be taken twice a day with honey or jaggery.
It is an ayurvedic proprietary preparation that consists of 7 Ayurvedic rejuvenating herbs. Usually, 1 teaspoon of IAFA AF-7 can be taken twice a day. It helps in boosting our immune system and also balances the aggravated pitta doshas. 
The above-mentioned herbs if taken regularly, then Esophagitis cure can be achieved. 
Now, Dr. Gupta along with the above-mentioned herbs, also recommends some pathya and apathya to be followed by the patient.
Do's (Pathya)
The patient's diet must include whole fruits, vegetables, and greens.
Must intake well-cooked old rice as it is easily digestible.
Consume fruits like Apple, pomegranates, and bael daily. 
Frequent intake of lukewarm water will enhance digestion.
Intake of fiber-containing fruits and vegetables frequently.
Include whole corn, millets, and ragi in the diet.
Fennel and cumin water enhance Agni in the body and help in digestion. So I recommend intaking regularly.
Don'ts (Apathya)
Foods containing high fat such as butter, creams, cheese, and non-veg.
Packaged foods must be avoided as they contain food additives, synthetic colors and synthetic flavors.
Some vegetables: lady's finger, mushroom, capsicum, and eggplant must be avoided.
Always avoid leftovers and not-so-fresh foods.
Spicy, salty, and acidic foods must be avoided.
Some nuts: cashew, almond, pistachios, and sesame seeds must be avoided.
Whichever foods are viruses and (incompatible) must be avoided in any case?
If these pathya and apathya along with the above-mentioned herbs, if followed regularly, can bring Esophagitis cure in the patient.
Follow-up: Dr. Gupta recommended the patient here the medications for about 3 months to bring the best result. 
Follow-up: 1st month
Dr. Gupta after recommending the above-mentioned herbs along with pathya, the patient adhered to the same medications meanwhile the team IAFA® thoroughly followed up with the patient for about a month and found out:
Around 70% of relief from Esophagitis was seen.
The patient feels less difficulty and pain during swallowing.
There are fewer symptoms of food intolerance. 
But there is still a regurgitation of acid from the stomach, and the patient is feeling heartburn and vomiting after eating the food because of this. 
So Dr. Gupta recommended the patient follow the medications and the instructions of the diet for about 2 months to achieve the holistic Esophagitis Ayurvedic treatment.
Follow-up: 2nd month
The same medications were given to the patient and no changes were made to the medicines or the diet. 
The team IAFA® was in regular contact with the patient and helped him with the diet recommendations and resolved any issues facing while using the medications. 
The best thing about IAFA® is they are always available whenever you need it, and Dr. Gupta's online consultation and his compassionate care towards the patient help him to recover quickly. 
This time the patient presented with much more relief than before and that made the team IAFA® happy.
Around 90% of relief was achieved in the condition of Esophagitis. 
No symptoms of any food intolerance were found.
The patient is feeling way better than before while swallowing the food.
The problem of regurgitation has been down to 90%.
The herbs have helped the patient to improve his digestion capability thereby resulting in fewer anaphylactic reactions.
But, the main aim of IAFA® and Dr. Gupta is to achieve 100% cure from any type of condition and resend the patient in a healthy and happy position. So as usual Dr. Gupta felt that continuing the medications to get 100% is necessary. 
Follow-up: 3rd month
Now the patient has adhered to the medications easily and found no difficulty or problem following the diet recommended by Dr. Gupta. 
Even the involvement of the team IAFA® has reduced this time as the patient has verily adapted to the Esophagitis treatment of IAFA®.
After continuous treatment of the patient for about 3 months from IAFA®, one thing we can expect for sure is a holistic 100% cure of the condition or disease.
The same is repeated in the case of Robindeep Singh. You can check out the lab results of the patient after getting successfully treated at IAFA®.
Patient Review: After Successful Treatment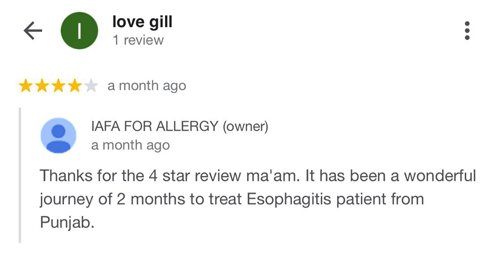 It is always a pleasure for the team IAFA® and Dr. Gupta to receive happy and honest reviews and notes from the treated patients. 
The patient left us a note of gratitude and happiness as he was suffering from Esophagitis a way back and didn't get completely cured even though undergoing allopathic treatment. So it made him so happy after successfully being treated at IAFA ®. 
Yes, IAFA® guarantees you good and fortunate health and happiness.
Conclusion 
Esophagitis is a condition that can haunt you every time you eat any food. It makes it difficult for the patient to eat anything. If it's not treated at early stages there may be chances of attack by Esophageal cancer too. So, it must not be ignored and should get treated properly by experts. Not only this condition but any type of allergies, be it food allergies, nasal allergies, skin allergies, and various others can be treated successfully at IAFA® by an ayurvedic allergy specialist Dr. Sahil Gupta. 
Like in this case as the patient got treated for Esophagitis in 3 months, there are many other patients treated successfully for other vast diseases and conditions at IAFA®. 
We recommend you have a look at other case studies if you are still not assured about booking your online consultation with IAFA®. 
So, hurry up and book an online consultation now, because IAFA® is a home for happiness by getting rid of all your allergies.