Namaste, the amazing community of Chandigarh! If you're looking for an allergy specialist in Chandigarh, then Here's some good news for you! The top ayurvedic allergy specialist is near you, you need not go places now to get treated for your allergies. Get treated at your comfort place.
Dr. Sahil Gupta (B.A.M.S., M.H.A.) CEO and Founder of IAFA Ayurveda® have decades of experience in treating various kinds of allergies and till now has treated more than 50 thousand patients from all around the world with a success rate of more than 99%.
The journey of Dr. Sahil Gupta, his curiosity towards treating allergies started even before his graduation with a Bachelor of ayurveda. He was enthused about ayurvedic principles and gained practical knowledge from his gurus and his ancestors. Dr. Gupta gathered all his passion towards ayurveda and made his life's main motto to treat patients all around the world by using natural herbal medicines. Now he stands as the best allergy doctor in Chandigarh. 
Dr. Gupta has completed his Bachelor of Ayurvedic Medicine and Surgery (B.A.M.S.) from Maharshi Dayanand University, Rohtak. Dr. Gupta has been practicing Ayurveda for over a decade and has treated patients from all over the world, including the United States, the United Kingdom, Canada, Australia, and several other countries.
Dr. Sahil Gupta is one of the leading Ayurvedic allergy specialists in the world. He has gained immense popularity for his exceptional skills in the field of Ayurveda and his ability to treat various allergic conditions through natural and holistic means. His extensive knowledge of Ayurvedic principles combined with his modern medical training has allowed him to help around 50000+ patients suffering from allergies to lead a healthier and more fulfilling life. Click here to read case studies.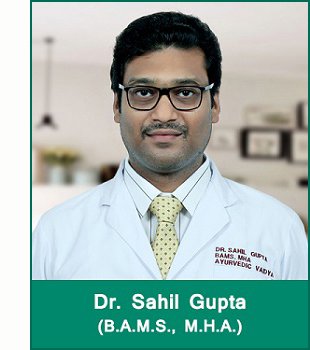 If you're looking for the best allergist in Chandigarh look nowhere above Dr. Gupta because his approach to treating allergies involves a comprehensive assessment of the patient's physical, mental, and emotional health. He uses a range of Ayurvedic therapies, including herbal medicines, diet, and lifestyle changes to restore balance and harmony in the body. He believes that the root cause of allergies lies in an imbalance in the immune system and that by restoring balance and strengthening the body's natural defenses, it is possible to overcome allergies naturally.
Dr. Gupta's expertise in Ayurvedic allergy treatment is unparalleled, and he has successfully treated several patients with various allergies, including food allergies, nasal allergies, skin allergies, and allergic rhinitis. His patients have reported significant improvements in their symptoms, with many experiencing complete relief from their allergies.
Dr. Sahil Gupta's commitment to excellence, compassion, and dedication to the field of Ayurveda has made him one of the most sought-after allergy specialists in the world and also the best allergist in Chandigarh. He is a true visionary in the field of Ayurvedic medicine and a source of inspiration for those seeking natural and holistic treatments for allergies.
Dr. Sahil Gupta has written two books on allergies and fungal infections. One dealt with pediatric allergies focusing on child health and ayurveda and the other was on ayurvedic aspects of allergies and fungal infections.
Why is Dr. Sahil Gupta the Best Ayurvedic Allergy Specialist Doctor in Chandigarh?
Decades of experience in the field of allergies.
More than 50000+ patients got treated successfully and trust his treatment.
Personalized treatment for each patient.
Customized diet plan based on the disease condition.
Frequent follow-ups are assured through his team members.
His compassionate approach toward the patients has gained more trust in them.
Dr. Gupta's Advice for You
Dr. Gupta has always believed that the main reason behind any kind of allergy is the consumption of the wrong food. The wrong food can be of many types like consuming Virudh Aahar, wrong food combinations, right food at the wrong time, excessive eating of the same food, not eating as per your doshas, and so on. 
So if you're suffering from any kind of allergies, be it nasal allergies, food allergies, skin allergies, and others, please head on to the IAFA Ayurveda® in Chandigarh and get treated with natural ayurvedic herbal medicines and a personalized diet plan.
Physical Address of the Centre
IAFA Ayurveda®,
Address: SCO 312, 1st Floor, Sector 38-D, Chandigarh – 160036.
Phone No.: (+91) 961-218-000, (+91) 910-000-9815
Why do you have to suffer from allergies, when you have IAFA® at Chandigarh now? Contact us today or book an online consultation with the best allergist in Chandigarh, Dr. Sahil Gupta, and chat in detail about your disease condition and get treated naturally.