Abstract:
Fungal infections are quite common in day-to-day practice. These infections manifest a great challenge to the physicians due to higher rate of recurrences if not treated early and can also lead to the development of more extensive disorders. The available conventional treatment includes various topical and systemic antifungal and anti-pruritic agents which are associated with high rates of treatment failure and adverse effects. In Ayurveda, this condition has the resemblance of Dadru. It is a type of Kshudra Kushta, a tridoshaj vyadhi with dominance of Pitta and Kapha doshas. In this case report, a 33-year female patient suffering from tinea cruris from the past 6 months approached IAFA via online consultation was treated successfully by Dr. Gupta with Ayurvedic measures. The patient got complete relief in itching, redness, discomfort associated with fungal infection. Ayurvedic measures like internal medication and external procedure also prevented the recurrence/relapse of infection without any adverse effects. Thus, IAFA promises successful treatment of tinea cruris.
Keywords: Ayurvedic intervention, fungal infections, dadru, Ayurvedic treatment, Jock Itch
Introduction:
Tinea infections are fungal infections of the skin which are the most common skin conditions worldwide. It is commonly known as Jock Itch which is an infection of the groin, perineal, peri – anal area. It can present unilaterally or bilaterally with a red, raised and active border. It can affect both men and women but it's rare in children. The treatment of jock itch in modern medicine includes the over-the-counter (OTC) and prescription of antifungal creams, ointments, gels, sprays or powders but in some cases jock itch may come back and harder to treat but the Ayurvedic treatment of jock itch is safe, effective and non-relapsing in nature. 
Fungal Infections according to Ayurveda:
Since time immemorial, proper Ayurvedic treatment under the guidance of renowned Vaidyas has helped humans to conquer physical and mental problems. Ayurvedic treatment of Tinea Cruris by IAFA aims at finding the root cause and pacifying the vitiated Pitta and Kapha doshas.
Ayurvedic Reference of Tinea Cruris

It's a Fungal Infection in the skin of genitals, inner thighs and buttocks. It causes itchy, red ring-shaped rash on the warm and moist area of the body, often affecting inner thighs and the groin area. It is common in athletes, in people with excess perspiration, and in overweight persons.
Signs and Symptoms of Tinea Cruris
Reddish Skin Rash
Itching
Burning
Flaky, Scaly Skin
Ring shaped rash bordered with a line of small blisters
Spread of Tinea Cruris
From person to person
By sharing belongings like towels, clothing etc.
Spreads from feet to groin through hands or towel.
Risk Factors for Tinea Cruris
Tight Underwear
Overweight
Excessive sweating
Weakened Immune System
Diabetes
Case Report
Name: Dipasree
Age/Gender: 33/F
Address: Andaman & Nicobar Island, India
UID: 6864
Date: 24/01/2022
Chief Complaints: History of fungal infection superficially on the body from the last 6 months. From the last couple of months, the symptoms of red rashes along with sores are present and infection aggravated in the groin region, thighs and buttock area.
Treatment Plan:
Internal Medication:
Total Care 3X Ras
IAFA AF – 7 Tablet (750 mg)
External Procedure:
IAFA AF – 7 Wash
IAFA AF – 7 Lotion
IAFA AF – 7 Oil
IAFA AF – 7 Cream
Dosage/How to use:
Total Care 3X: 60 ml with equal quantity of water once in a day on an empty stomach in the morning.
IAFA AF – 7 Tablet: 2 tablets twice in a day with water 15 minutes before meals.
IAFA AF – 7 Wash: Dispense 3-5 ml IAFA AF – 7 Wash and lather softly in the palms of the hands. Cleanse the genital area gently and rinse thoroughly. Shake well before use.
IAFA AF – 7 Lotion: Apply once in a day over the body after taking a bath.
IAFA AF – 7 Oil: Apply twice or thrice a day over the affected area.
IAFA AF – 7 Cream: Apply twice or thrice in a day over the affected area. 
The successful treatment of Jock Itch involves changes in diet and lifestyle along with Ayurvedic medication.
Diet in Tinea Cruris:
Do's (Pathya):
Intake of fiber rich foods, salads, fruits and lentils.
Adding coconut water to your diet and always using healthy fats like ghee in cooking are recommended.
Spices such as – fenugreek, turmeric, coriander, cumin seeds.
Mild to moderate exercises
Use of separate personal items
Maintain personal, social and environmental hygiene
Use chappals during walking in the mud, dust or dirty water
Wear loose and dry garments
Don'ts (Apathya):
Avoid excess intake of sugar, salt and acidic food
Avoid spicy, fatty, hot and penetrating foods, junk food and aerated drinks
Stale and refrigerated food
Reheated food
Taking food before the previously digested meal
Packaged food that contains food additives, dye, artificial sweeteners etc.
Yeast fermented food and yeast fermented beverage items.
Patient's Review: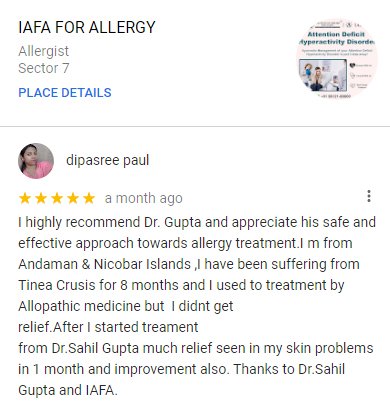 "I highly recommend Dr. Gupta and appreciate his safe and effective approach towards allergy treatment. I'm from Andaman & Nicobar Islands, I have been suffering from Tinea Cruris for 8 months and I used to treatment by Allopathic medicine but I didn't get relief. After I started treatment from Dr. Sahil Gupta much relief seen in my skin problems in 1 month and improvement also. Thanks to Dr. Sahil Gupta and IAFA."
Conclusion
Fungal infections in their acute as well as chronic states are troublesome for the sufferers both physically as well as mentally. IAFA is a renowned Ayurvedic institution that has provided complete relief by using internal medication and external procedures based on Ayurvedic principles. This case study shows that treatment of fungal groin infection can be treated successfully with Ayurvedic intervention. No adverse effects pertaining to the prescribed medicines were reported.