Mental health takes a toll when there is continuous stress and an unbearable burden in your head. WHO states that one in every 8 individuals suffers from mental health disorders and they may cause disturbances in thinking, emotional regulation, and individual behavior. So through this blog, we will tell you the importance of mental health issues and introduce you to How Aparajita Helps in Mental Health Disorders Treatment?
There are many mental health disorders and anxiety, depression is the most common. There are many therapies out there that will cost you a few thousand bucks! Isn't it? Yes, they may help you, but remember external motivation won't last long until you take charge of your life. The practices you inculcate regularly, the food you eat, the people you spend time with, everything counts.
Through this blog, we would like to introduce you to Aparajita flower extract, or Aparajita Capsules being the best herbal medicine for well-balanced mental health.
Aparajita flower extract or more commonly called blue flower extract is known as Medhya Rasayana in Ayurveda. It is one of those herbs which are immensely beneficial for boosting memory and improving cognitive functioning.
And no surprise many are reverting to ages-old Ayurveda for Mental Health Disorders and practicing yoga, meditation, and using herbal medicines for good mental health. One of those herbal medicines is Aparajita Capsules. Aparajita Capsules improves sleep pattern, reduces anxiety attacks, and reduces stress and depression. Let's see how Aparajita is the leading herb to treat mental health disorders in Ayurveda.

Aparajita for Mental Health Disorders Treatment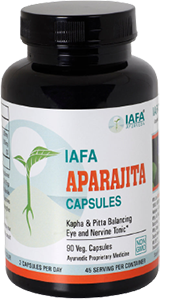 Aparajita has many phytoconstituents that are well known for its brain development functioning. It helps to keep the brain healthy and aids in working faster. A healthy brain is the seat of a healthy body. If the brain aligns with your body's functioning, then life will be in harmony. Aparajita aids you in keeping your brain at pace.
How Can You Consume Aparajita for A Healthy Brain?
Well, there are many well-known options on the net or in Ayurvedic closets, but the best and most convenient among them is Aparajita Capsules. Aparajita Capsules are made from Aparajita blue flower extract that is best suitable for brain health than any other parts of the plant.
Conditions That Can Be Treated by Aparajita Capsules
Anxiety
Depression
Stress
Cognitive behavior
Convulsions
Memory improvement
Enhanced learning
One-two capsules a day will aid in boosting your brain health. This herb has such qualities which fight depression, and anxiety and reduces stress. It maintains good brain health. Aparajita Capsules also aid in improving blood circulation to the brain. Aparajita has antioxidants and flavonoids that make it the best medicine for stress and fatigue.
Aparajita for Stress Treatment
Aparajita has various metabolites like flavonol glycosides, anthocyanins, steroids, and triterpenoids which have stress-relieving properties. These secondary metabolites help in enhancing mood and keeping the brain active. An active brain is an indication of less fatigue and less stress. It is a well-known herb for the treatment of Vata-vitiated diseases like fatigue. Blue tea made from the Aparajita flower is known as a stress buster and mood enhancer beverage. You can replace your normal tea with this herbal tea for better stress relief. These secondary metabolites restrict the free radical action which is the leading cause of stress and anxiety.
Also Read – How Does Aparajita Help in Eye Allergies Treatment?
Aparajita for Anxiety Treatment 
Flavonoids and other antioxidants reduce the symptoms of anxiety. It inculcates positive emotions and boosts energy levels. Regular consumption of Aparajita capsules helps the brain to get into a stable and calm state by alleviating the symptoms of stress, anxiety, and depression. One or two capsules a day as prescribed by your Ayurveda expert will produce noteworthy results in your brain health.
In addition to fighting anxiety, depression, and stress, Aparajita has acetylcholine, a neurotransmitter that improves memory and is highly recommended for Alzheimer's disease.

Wrapping Up
Aparajita is known as Medhya Rasayana in Ayurveda due to its immense brain health benefits. Aparajita is a storehouse of antioxidants and brain-boosting secondary metabolites making it a good choice for a wide range of mental health disorders like anxiety, depression, stress, fatigue, and memory enhancer. Due to the stimulation of acetylcholine, a neurotransmitter, it is used in the treatment of Alzheimer's disease.
Buy Aparajita Capsules now and maintain your mental health along with your physical health. A well-balanced body and mind are an indication of a healthy life. Prioritize your mental health before it's too late. We always say, "Your health is our Priority."
Making you healthy and guiding you with the right herbal medicines is our priority. Book an online consultation now with Dr. Sahil Gupta to discuss any health issues. Or Do you have any queries? Click here to contact us, will revert to you soon. Till then take care of your mental health!